SMIC will provide Crossbar RRAM blocks made on SMIC' 40nm CMOS manufacturing process. This will enable customers to integrate low latency, high performance and low power embedded RRAM memory blocks into MCUs and SoCs.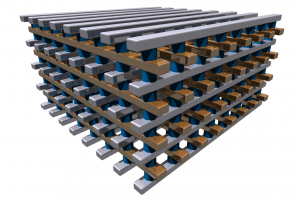 "Designers of highly integrated MCUs and SoCs need non-volatile memory technologies that are easy to integrate into their products and can be manufactured using standard CMOS logic processes," says Crossbar CEaobGeorge Minasdian, "Crossbar RRAM technology and SMIC manufacturing expertise are creating a new era of unique memory architectures with tighter security, lower power consumption while providing more capacity and fast access time."
Crossbar RRAM's CMOS compatibility and scalability to small process geometries enables the integration of non-volatile memory blocks at the same process nodes of MCUs and SoCs. RRAM cells are integrated in standard CMOS processes between two metal lines of standard CMOS wafers. This enables extremely integrated solutions with on-chip non-volatile memory, processing cores, analog and RF combined on a single die.
"Based on SMIC's 40nm process node, we can offer high-capacity and low-power memory technology with unique security features for smartcards and various IoT devices to customers," says SMIC CEO Dr. Tzu-Yin Chiu.