AMD plans ARM and x86 chips in embedded push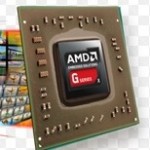 AMD is offering both ARM and x86 processor based chips for the embedded processor market, as the microprocessor supplier looks for growth markets outside of PCs.
Along with x86 accelerated processing units (APUs), AMD will offer an ARM-based  system-on-chip (SoC) device and a family of discrete AMD Embedded Radeon graphics processors. All due to launch in 2014.
These embedded devices follow AMD's recent launch of its Embedded G-Series SoC family. This represents a significant new focus on the embedded processor market for the PC microprocessor supplier.
AMD quotes a recent report by VDC Research which indicates that the market for CPUs in traditional and intelligent embedded systems will grow 36% from roughly 330 million units in 2013 to more than 450 million units by 2016 with x86 and ARM architectures accounting for 82% of the total addressable market.
According to Arun Iyengar, vice president and general manager, AMD Embedded Solutions, this market is characterised by different customer needs in different segments of this market "from low-power to high-performance, Linux to Windows, x86 to ARM".
So in 2014, AMD plans to bring to market two Embedded R-Series processor families: the "Hierofalcon" CPU SoC family based on the ARM Cortex-A57 architecture and the "Bald Eagle" APU and CPU offering based on the x86 microprocessor architecture codenamed "Steamroller."
The upcoming "Steppe Eagle" APU SoC is designed to extend the low-power characteristics of the current Embedded G-Series SoC family. In addition, "Adelaar" will bring to market the first discrete GPU based on AMD Graphics Core Next architecture for embedded systems.
"Hierofalcon" is the first 64-bit ARM-based platform from AMD targeting embedded applications, communications infrastructure and industrial solutions. It will include up to eight ARM Cortex-A57 CPUs expected to run up to 2.0GHz, and provides high-performance memory with two 64-bit DDR3/4 channels with error correction code (ECC) for high reliability applications.
The "Hierofalcon" series also provides security features with support for ARM TrustZone technology and a dedicated cryptographic security co-processor. It is expected to be sampling in the second quarter of 2014 with production in the second half of the year.
"Bald Eagle" is the next generation x86-based embedded processor available as both an APU and CPU featuring up to four new "Steamroller" CPU cores within a 35W TDP.
Designed for low-power embedded applications, "Steppe Eagle" is designed to offer increased performance-per-watt both at a lower TDP than the current AMD Embedded G-Series APU SoC, and will run at over 2GHz. It is expected to be available in the first half of 2014.