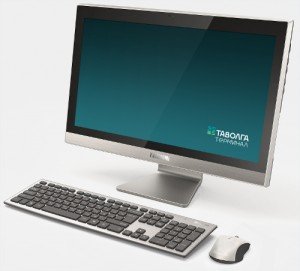 Baikal-T1 has two MIPS P5600 cores clocked at at least 1GHz.
"P5600 currently holds the highest CoreMark/MHz score among 32bit CPU IP processors, making it one of the most powerful processors when it comes to performance per MHz and per watt," claimed Imagination Technologies, owner of MIPS intellectual property.
The PC is called Tavolga Terminal TB-T22BT, runs the Debian 8 operating system, and can be configured as a workstation or a thin-client terminal.
Free software including LibreOffice  – with similar function to Microsoft's Office – and the Firefox browser are available for Debian 8.
T-Platforms also demonstrated SF-BT1, a SMARC v1.1-compatible computer-on-module with a Baikal-T1 – SMARC is 'smart mobility architecture').
Earlier in 2015, China-based Loongson Technologies announced a family 64bit MIPS CPUs for desktops and servers.