Renesas adds USB BC 1.2 to RL78 range for health sensing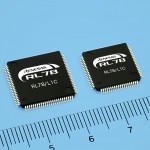 Renesas Electronics has added to its RL78 range of microcontrollers with a number of variants which integrate LCD display functions, USB functions, and 12-bit A/D converters on the chip.
The RL78/L1C MCUs are targeted at sensor applications in healthcare, such as blood pressure and blood glucose monitoring equipment.
Comprising 40 products, the new RL78/L1C Group controls segment display type LCD panels and is available in 80- and 100-pin packages with on-chip flash memory capacities ranging from 64 to 256kbyte.
The MCUs have an on-chip USB function module and 12-bit A/D converter. The USB function module is compliant with the USB BC 1.2 specification. This means it can accept a maximum charging current of 1.5A, three times that of USB 2.0 modules.
Low power operation means that the RL78/L1C devices achieve an approximate 30% reduction in current drain during LCD drive operation compared to earlier Renesas 78K0R/Lx3 products, as well as 40 to 60% reductions in current drain compared to earlier Renesas products during USB operation, said the supplier.
Current drain is specified at 0.62µA during 32kHz clock halt operation.
Renesas will provide a complete development environment for these products including the E1 on-chip debugging emulator, a dedicated Renesas Starter Kit (RSK) and a code generation tool.
The company plans to release smaller 85-pin 7 × 7 mm LGA package versions starting in April 2014.

Tags:
health
Related Tech News
AMS has launched an optical heart rate sensor for wrist…more »

Cambridge Consultants will demonstrate Bluetooth low energy (BLE) iPhone 4S applications at Mobile World Congress.…more »

Freescale is promoting ZigBee as the wireless link for health…more »
Share your knowledge - Leave a comment