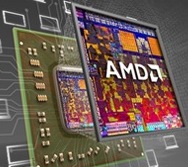 The Cambridge-based processor firm was probably not surprised at all.
ARM wants to be more than just a mobile processor firm and it has long had its sights set on the server market.
Those plans now look entirely credible.
ARM knows it will not push the x86 processors of Intel and AMD out of the lucrative server market overnight, which makes AMD's "ambidextrous" processor strategy all the more interesting.
As AMD points out, the combined market for ARM- and x86-based processors could be worth more than $85bn by 2017.
This is the market which AMD has in its sights following the signing of a 64-bit ARM architecture licence.
Called Project SkyBridge, AMD plans next year to introduce the first pin-compatible ARM and x86 processors. The 64-bit ARM variant will be based on the ARM Cortex-A57 core and will run Android. The x86 variant will feature next-generation Puma+ microprocessor cores.
Following this AMD has plans for a new high end ARM-based 64-bit core which could become the biggest challenger to the x86 dominance of the server market.
For some time ARM executives have been telling anyone who would listen that the low power processor architecture is well placed to break into the power-hungry x86 dominated server market.
It now looks like this is more than mere wishful thinking on the part of the power processor gurus from Cambridge.
Related news:
AMD claims ARM and x86 mobile chip first