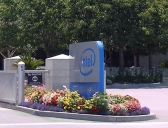 The joint statement reads:
'Intel Corporation and Advanced Micro Devices (NYSE: AMD) today announced a comprehensive agreement to end all outstanding legal disputes between the companies, including antitrust litigation and patent cross license disputes.
In a joint statement the two companies commented, "While the relationship between the two companies has been difficult in the past, this agreement ends the legal disputes and enables the companies to focus all of our efforts on product innovation and development."
Under terms of the agreement, AMD and Intel obtain patent rights from a new 5-year cross license agreement, Intel and AMD will give up any claims of breach from the previous license agreement, and Intel will pay AMD $1.25 billion.
Intel has also agreed to abide by a set of business practice provisions. As a result, AMD will drop all pending litigation including the case in U.S. District Court in Delaware and two cases pending in Japan. AMD will also withdraw all of its regulatory complaints worldwide. The agreement will be made public in filings with the Securities and Exchange Commission.'
Presumably the recent anti-trust case brought against Intel by the State of New York is unaffected by AMD's decision because the New York case is a criminal case, whereas AMD only has the power to withdraw from civil cases as in the Delaware proceedings.
Whether or not AMD's decision will affect the anticipated decision of the US Federal Trade Commission (FTC) on whether it will bring anti-trust proceedings against Intel is not unknown. The FTC has been investigating Intel's business practices for most of the current decade and a decision on prosecution had been thought to be imminent.