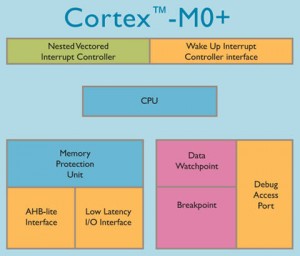 It already offers microcontrollers with: Coretex-M3, M4, A5, ARM7TDMI and ARM9, as well as its own 32-bit core and its 8bit AVRs.
So why not just direct customers to the M3s?
There are two main reasons, Atmel product marketing manager Andreas Eieland told Electronics Weekly:
"M0+ is significantly more affordable to implement in regards to gate count," he said, "and M0+, rather than M0, has single-cycle I/O – a lot of our customers still 'bit-bang' I/O, having come from AVR, MSP430 and PIC24."
For peripherals for the family, called SAM D20, Atmel has scouted its existing devices.
"Event System allows peripherals to co-operate without CPU," said Eieland. "The Event System IP has come almost 1:1 from AVR Xmega. It is also used on our Cortex-M4."
For touch sensing, there is a hardware peripheral is based on intellectual property (IP) from Southampton-based Quantum Research, owned by Atmel, which works without external components and includes lower protocol layers in hardware.
"It is the touch controller of the [M4-based] SAM4L, a refined version to make sure we can do touch-in-sleep and proximity detection," said Eieland. "The first couple of levels of protocol done in hardware, and it can be laid out as one-pin-to-one-button, an x-y matrix, sliders, wheels, and proximity."
The 10bit 35ksample/s DACs have come from SAM4L, and the 12bit 350ksample/s ADC (with gain stage) are from the D-series of Xmega microcontrollers.
Sleepwalking hardware builds on the Event System. "SleepWalking allows the microcontroller to be put into deep sleep and wake up only upon a pre-qualified event. The CPU no longer needs to check whether or not a specific condition is present, such as an address match condition on the I2C interface, or a sensor connected to an ADC that has exceeded a specific threshold. With SleepWalking, this is done entirely by the peripherals themselves. The CPU and RAM will not wake up until the condition true.," said Atmel.
A new peripheral is a serial communication module. "There are multiple 'SERCOM' modules, up to six, each can be I2S, USART, or SPI," said Eieland
The core clocks at 48MHz and 16 to 256kbyte of flash is available.

32, 48 and 64pin versions are available in both PQFP and QFN, with the PQFN versions pinned to have similar connections (see diagram). "You can lay-out packages inside same footprint – you could even do a triple footprint," said Eieland, "and it is upwards compatible with the SAM4L."
Software support comes from the firm's Atmel Studio, which supports all AVR and flash-based Atmel ARMs.
"You get all low-level drivers – you can just write UART send. There are 2,000 project examples, all in C, where you can cut just away what you don't need, and a cycle-accurate simulator," said Eieland.
And, according to Eieland, GCC, IAR and Keil will be supporting SAM D20 from today.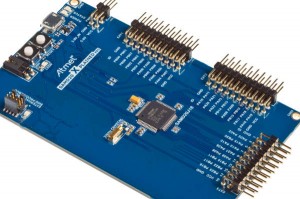 Also available today are samples and a development board: the SAM D20 Xplained Pro, with a 64pin 256kbyte SAM D20, which has a built-in programmer and a built-in debugger.
Devices will go into production in August.
Will there be more Atmel Cortex-M0+ microcontrollers?
"Intend to do other M0+ families," said Eieland. For example we do not have USB yet, or LCD drivers.
There are two lead customers: one developing a human-machine interface for white goods, and Bosch Sensortec is developing a fitness application.
"Customers for our next-generation self-contained nine-axis absolute orientation sensor will benefit from the same high performance with lower power consumption. Atmel's SAM D20 device optimises sensor fusion software at a level that was not previously possible," said Bosch CEO Dr Stefan Finkbeiner.