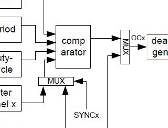 Motor control blocks in the AT32UC3C0512C, particularly for sensorless brushless DC motors, include: a fast four-channel PWM controller with 20bit precision, dead-time generation and fault protection; a 16-channel, 12bit pipelined ADC, a four-channel 12bit DAC, embedded temperature sensor and four analogue comparators for back-EMF sensing.
"Other features include an independent peripheral event system coupled with DMA channels to allow interperipheral communication without CPU intervention and to eliminate potential jitter," claimed Atmel. "This guarantees a two-cycle latency between the completion of one peripheral operation and the start of another."
Algorithms for field-oriented control such as Clarke and Park transformations can be implemented and there is an IEEE 754-1985-compatible floating point unit for signal processing, filtering and noise suppression.
For communication, there are two CAN interfaces, five LIN2.1-compliant USARTs and five I2C-compatible two-wire interfaces.
Vector Informatik has two operating systems ready to go on the UC3C family: OSEK-conformant osCAN and the Autosar-conformant Microsar OS.
"Communication software for CAN and LIN is available, as well as a flash boot loader, since this is required in most modern automotive applications," said Vector's product manager, Holger Soehnle.
Vault code protection allows the on-chip flash to be partially programmed and locked, improving protection for secret code and software intellectual property.
"These features allow the device to carry valuable software from a trusted location to another location, where the rest of the source code can be developed, debugged and programmed," claimed Atmel.
This is the PWM block