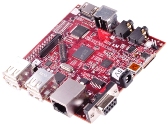 The three winners of the contest will each be awarded a $1,000 cash prize, BeagleBone tools and the chance to have their original cape plug-in board design manufactured and sold through CircuitCo Electronics.
The embedded development platform uses these expansion boards, called "capes," to add capabilities with cameras, LCD touch screens, motor controls and battery power.
BeagleBone is a credit-card-sized Linux computer that connects with the Internet and runs software such as Android 4.0 and Ubuntu.
The platform is based on the Sitara AM335x ARM Cortex-A8 processor from Texas Instruments.
To take part developers will have until Dec. 31, 2012, to submit an original cape design. Some of the requirements include: providing a schematic, designing a cape with bill of materials (BOM) not exceeding $60 if building 500 boards and recording a video describing the cape idea and uploading it to YouTube.
On Jan. 7, 2013, a listing of all the submitted entries that meet the minimum requirements stated on Beagleboard.org/CapeContest will be published.
A judging panel led by BeagleBoard.org, TI and CircuitCo will determine the three contest winners.
Winners will be announced Jan. 14, 2013. Sponsors include TI, CircuitCo, Mouser, Total Phase and Adafruit.
"BeagleBone has already inspired many BeagleBoard.org community members to create innovative technologies such as underwater robots, weather stations and security systems," said Jason Kridner, community advocate, BeagleBoard.org enthusiast and employee of TI.