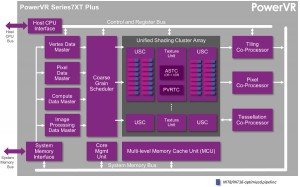 The new GPUs are part of the PowerVR Series7XT Plus family aimed at the premium and mid-range segments of the consumer electronics market.
'Computer vision is going to be the next big thing in computing, touching everything from computational photography on mobile devices (think super-fast and better Instagram filters or more realistic VR) to implementing advanced AI in drones, robots and self-driving cars, says Imagination, 'therefore the GPU must evolve from a simple pixel pusher to a highly complex computational engine; this is why we've tuned the feature set of our new PowerVR Series7XT Plus to dramatically improve performance by up to 4x for next-generation computer vision applications.'
GT7200 Plus is a dual-cluster configuration with 64 ALU cores while GT7400 Plus is a quad-cluster graphics processor with 128 ALU cores.
Both designs retain the full feature set of their Series7XT counterparts (e.g. OpenGL ES 3.2 and design for Vulkan support, hardware virtualization, advanced security etc.) while also introducing a number of new features aimed at vision and heterogeneous computing platforms.
The headline features for both GPUs are the introduction of a new integer pipeline for vision-related applications and the added hardware support for the OpenCL 2.0 compute API.
Microarchitectural enhancements that improve system performance and reduce power consumption include:
Support for the latest bus interface features including requestor priority support
Doubled memory burst sizes, matching the latest system fabrics, memory controllers and memory components
Tuning the size of caches and improving their efficiency, leading to a ~10% reduction in bandwidth.
The block diagram below shows the architecture of the Series7XT Plus ALUs.