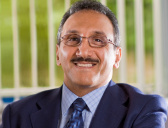 The UK-based processor firm has updated its current portfolio of MIPS Aptiv cores, extending each of the Aptiv families with new core configurations.
Later this year it will start rolling out an entire generation of new MIPS CPUs, including 32-bit and 64-bit cores, MIPS Series5 generation of CPU cores, codenamed 'Warrior'.
Imagination, which acquired the MIPS processor architecture last year, wants to compete in the 32-bit microcontroller market with ARM-based chips and PIC MCUs, and in the 64-bit market with x86 and Power processors.
"The industry is longing for a choice in the CPU market, and we are making MIPS a clear and superior alternative," said Hossein Yassaie, CEO, Imagination.
"Our forthcoming 'Warrior' cores will provide levels of performance, efficiency and functionality that go beyond other offerings in the market," said Yassaie.
"We are confident that we will change the landscape for CPU IP," said Yassaie.
MIPS Aptiv generation of cores will get a small-footprint single-core version in the interAptiv family and a floating point version to the microAptiv family.
The single-core version of interAptiv removes the extra logic associated with multi-core coherency and L2 cache controller, providing a multi-threaded single-core processor.
The proAptiv family comes in configurations from single through to six-core versions with optional hardware floating point.
The firm also has the microAptiv family targeting microcontrollers and deeply embedded processors, and this now incorporates an optional hardware floating point unit for applications including electric metering and motor control.
Imagination will introduce next-generation MIPS 'Warrior' cores later this year.
The 'Warrior' generation of cores will include 32-bit and 64-bit variants with a focus on superior performance efficiency across the high-end, mid-range and entry-level/microcontroller CPUs.
With 32-bit and 64-bit instruction set compatibility of MIPS, 'Warrior' cores will provide binary compatibility from the entry-level to the high-end. 64-bit 'Warrior' cores.
Warrior will feature hardware virtualization.
Imagination has also announced that its Ensigma Series4 radio processor unit (RPU) IP core family is now available for licensing.
The Series4 family of RPUs support communications standards such as 802.11ac 2×2 MIMO and DVB-T2 and are optimised for low-power implementation.
"We have stated for several years that ultimately RPUs will go on-chip just as GPUs have done, and now we're see this trend being acknowledged by our partners across a broadening range of markets," said Tony King-Smith, executive v-p marketing, Imagination
www.imgtec.com