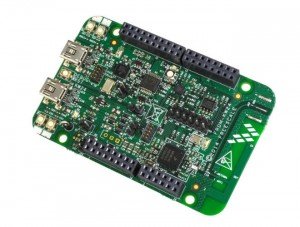 Called FRDM-KW24D512, it is based around the MKW24D512 microcontroller which has a 2.4GHz IEEE 802.15.4 radio transceiver and an ARM Cortex-M4 processor.
"The kit contains two boards, enabling point-to-point out of the box connectivity. It has a diverse reference design with all the necessary I/O connections for use as a self-contained board or for connection to an external application," said element14, which is supplying it.
Board have integrated inverted F-type antenna and SMA RF ports, and alongside the hardware, there is software support for Thread, ZigBee Pro, 802.15.4 MAC and SMAC. There is also the Kinetis Software Development Kit – the MUC is a Kinetis W chip.

They can work stand-alone, or with NXP's Freedom development platforms.
Applications in smart energy and healthcare are expected, as will as using in commercial, industrial and residential equipment.
Features:
Supports MKW24D512 Kinetis microcontroller (up to 50 MHz Cortex-M4 MCU, 512 KB Flash)
Full IEEE 802.15.4 compliant wireless node
Software support: Thread, ZigBee Pro, 802.15.4 MAC and SMAC, Kinetis Software Development Kit (SDK)
Reference design area with small footprint, low-cost RF node:

RF circuitry includes a Balun to convert the differential input/output pin of the MKW24D512 transciever to single-ended for on-board signal routing
Low off-chip component count
Programmable output power from –35 dBm to 8 dBm at the SMA connector, no trap
Receiver sensitivity: –102 dBm, typical

Integrated PCB inverted F-type antenna and SMA RF port
Selectable power sources
32 MHz reference oscillator
32 kHz clock oscillator
2.4 GHz frequency operation (ISM Band)
External serial flash for over-the-air programming (OTAP) support
Multiple push buttons and LEDs
OpenSDA debug interface
Combo sensor, 6-axis sensor with integrated linear accelerometer and magnetometer