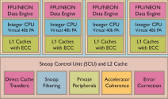 The 2GHz dual-core Exynos 5250 processor is fabbed in 32nm high-k metal gate low-power process technology and is intended for tablet PCs.
The dual-core ARM Cortex-A15 based application processor is capable of processing 14 billion instructions per second (DMIPS, Dhrystone million instructions per second) at 2.0GHz, nearly doubling the performance over a current state of the art Cortex-A9-based dual core processor running at 1.5GHz capable of 7,500 DMIPS.
"The ARM Cortex-A15 brings unparalleled performance to our Exynos processor family and the exploding mobile marketplace," said Dojun Rhee, v-p of System LSI marketing at Samsung Electronics. 
"The Cortex-A15 is our most advanced ARM processor to date," said Mike Inglis, executive v-p and general manager, processor division at ARM.
A feature of the applications processor is that it will drive a 2560 x 1600 (WQXGA) display. There is an embedded DisplayPort (eDP) interface that is compliant with panel self-refresh technology (PSR) applied to the timing controller (T-CON).
This will support more power efficient operation, particularly in e-reader applications.  
The embedded PSR technology enables static images to be refreshed directly from the frame buffer memory incorporated in the T-CON, resolving the need for regular display refresh instructions to be made by the application processor in cases such as reading static web pages or e-books.
The Exynos 5250 features a doubled memory bandwidth of 12.8 Gigabytes per second (GB/s) compared to current dual-core processors that support a maximum of 6.4GB/s.
Other peripherals include an embedded image signal processor enabling 8 Megapixel resolution images at 30 frames per second, a full HD 60 frame per second video hardware codec engine for high resolution 1080p video recording and playback, a HDMI 1.4 interface for sharp and crisp multimedia content transmission, along with a diverse scope of embedded booting device interfaces such as SATA, UART, USB and external ports such as USB3.0, eMMC4.5 and eSD3.0.
The Exynos 5250 is currently sampling to customers and is scheduled for mass-production in the second quarter of 2012.