Aimed at portable wireless storage, in IoT applications, it is based around ARM's 64-bit Cortex-A53 into a 9.6×9.6mm package.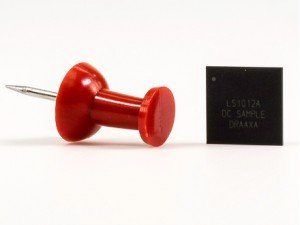 Called Qoriq LS1012A, it has a formidable array of giga-bit speed interfaces: two 2.5Gbit Ethernet ports, USB 3, PCIe and SATA 3.
"The world is going giga-bit, and you need faster and faster ways to bring data into the cloud – securely," said NXP's Jim Bridgewater.
At its maximum of 800MHz, the core scores a CoreMark of 2,000 and consumes 1W. A hardware packet forwarding engine is included to reduce power consumption.
With its size and power consumption, Bridgewater sees it replacing memory servers in data centres. He sees the chip built into disc drives so that they can be connected directly to the network – a class of device known as an 'Ethernet drive', he said.
Embedded World 2016: Get the full Electronics Weekly guide »
Other potential applications for the network processor are battery-backed IoT gateways in industry and the home, and in pocketable Wi-Fi connected data storage.
The firm also announced several miniature module products to simplify design-ins.
SCM-iMx 6Dual and 6Quad are tiny (14x17x1.7mm) building blocks with CPUs, power management and built-in memory – including 109 discrete components, said a company spokeswoman. Applications include IoT hubs and graphics hubs, as well as wearables.
Then, for NFC communications, there is Ntag I2C Plus which is a complete NFC tag that only needs an I2C connection.
"There is no need to know protocol stacks and no need to know a lot about antennas," said Rafael Sotomayor of NXP's secure transactions group. "It will enable a lot of devices to get NFC for the first time."
Another module, PN7462, does something similar for NFC readers.