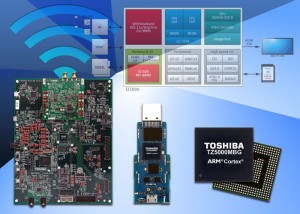 The RBTZ5000-2MA-A1 and RBTZ5000-6MA-A1 starter kits provide drivers for internet applications using HTML5.
Both kits provide drivers for video playback using Wireless LAN and HDMI output, with the RBTZ5000-2MA-A1 on Ubuntu Linux, and the RBTZ5000-6MA-A1 on an Android 4.4 platform.
They are based on processors with a dual-core ARM Cortex-A9 MPCore /ARM NEON CPU with Bluetooth 4.0 connectivity and an embedded IEEE802.11a/b/g/n/ac 2×2 MIMO baseband engine for Wi-Fi connectivity.

The RBTZ5000-2MA-A1includes a general-use board with expanded I/O for various peripherals, such as cameras or microphones.
The RBTZ5000-6MA-A1, developed for transmission of audio, video and other media for streaming delivery, features a stick-type board suitable for streaming media devices.
The TZ5000 ApP Lite starter kit samples will begin shipping in October 2014.