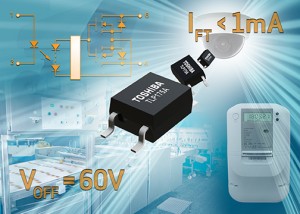 The photo-relay's miniature four-pin SO6 package incorporates an infrared LED that is optically coupled to a photo mosfet.
Package dimensions are just 7.0×3.7×2.1mm. A 1mA current is all that is required to trigger the LED and turn the photorelay on.
Featuring a normally open (1-Form-A) configuration, the TLP175A has an OFF-state output terminal voltage of 60V and a maximum ON-state current of 100mA. Performance is guaranteed for operating temperatures between -40°C and 85°C.
The TLP175A is intended for applications such as security systems and utility meters.
Minimum creepage and clearance distances of 5.0mm and an internal isolation thickness of 0.4mm (min) contribute to a minimum isolation voltage rated at 3750Vrms.