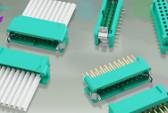 Named Gecko, the G125 series connectors have 2A per contact rating and can operate over -65 to +150°C and 100gravity vibration (z-axis 6m/s).
"This performance is made possible by Harwin's four-finger patented copper alloy contact," said the firm.
Offering up to 50 contacts per connector and available in dual row cable-to-board and board-to-board configurations, Gecko includes polarisation points to prevent mis-mating, easy identification of the No 1 position for visual inspection and optional latches that de-latch without special tooling.
Cable connectors allow rear potting for extra strain relief.
Applications are expected in aerial drones, aerospace, medical, motor sport, robotics, defence, fossil fuel exploration and instrumentation.
"Mouldings are manufactured from environmentally friendly materials, eliminating harmful chemicals even before they are added to restricted substances lists," claimed Harwin.