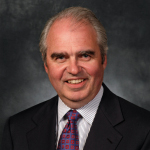 The alliance with NEC Tokin, which was agreed last March, will potentially double Kemet's sale revenues and significantly add to its Asia business.
This will start as a joint venture but is likely to result in full acquisition in a few years.
Five years ago Kemet did 60% of its sales in the US today the figure is just 25%.
Kemet, which manufactures tantalum, ceramic, aluminum, film, paper and electrolytic capacitors, agreed earlier this year to acquire a 34% of NEC Tokin, a Japan-based manufacturer of tantalum capacitors and electro-mechanical devices.
It has the option to acquire 100% in the future.
"Dramatic change in the company"

"It is certainly the most dramatic change in the history of our company," Per-Olof Loof, CEO of Kemet told Electronics Weekly.
One aim of the alliance between the two capacitor manufacturers is to improve NEC Tokin's financial base and the recovery of its capacitors business which was severely damaged by the October 2011 flooding in Thailand.
NEC Tokin will continue operating under the same brand.
Approved

Kemet and NEC Tokin have received all necessary governmental approvals, and the customary closing conditions to the injection have been satisfied.
Kemet and NEC now respectively hold 51% and 49% of the voting interest, and 34% and 66% of the economic interest, in NEC Tokin.