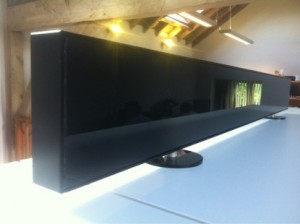 Measuring 1.2m in length the soundbar is sized to match 55-inch TVs and is designed to achieve high fidelity audio quality from a panel of Corning Gorilla glass, just 0.7mm thick.
The Cambridge-based  company is seeking to license the technology.
The sound is created by inertial audio transducers attached to the glass. The transducers create microscopic bending waves in the surface of the glass.
Left/centre/right channels are rendered so that the person watching TV will hear a broad sound stage with the clear dialogue in the centre, and the ambient sounds spatialised throughout the background. High frequencies reach over 20kHz, with low frequencies going below 100Hz.
According to Redux, the process of chemically strengthening glass, typically used as the display cover glass in smartphones and tablets, means the material is well suited to the audio technology, known as distributed mode loudspeakers.
"The natural damping of the glass, combined with engineered damping in the sound bar system-level design allows well separated stereo sound," said the company.