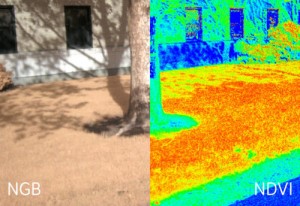 The idea behind this Infragram project is to allow anyone to check on the health of plant life. The team says it expects to sell the cameras for around $35, but the price could potentially even be as a low as $10.
At that price any citizen environmentalist Movie Cameracould get busy spotting oil or sewage spills in wetlands, for example. And buyers will be able to share their images – and learn infrared tricks – with likeminded users online.
It took Infragram just a week to exceed its stated target of $30,000.
The project involves bulk buying cheap point-and-shoot 2-megapixel digital cameras and fitting them with a "superblue" filter. This forces the red channel of the camera's image sensor to produce an IR image that will be saved to the camera's SD memory card.
The founders hatched the idea for Infragram after shooting images of the damage caused to Texan wetlands and coastlines by BP's Deepwater Horizon oil spill in July 2010. The principle relies on the fact that red light is absorbed by plants during photosynthesis but infrared is not – so healthy plant life should reflect a lot of near infrared light. But if pollution has caused a die back, that won't be the case.
Until now, professionals doing work like this have used expensive "vegetation stress cameras" created by converting SLRs made by firms like Canon – costing between $775 and $2700. But Infragram hopes to allow gardeners, farmers, activists and students to study such plant stress on the cheap.
Syndicated content: Paul Marks, New Scientist