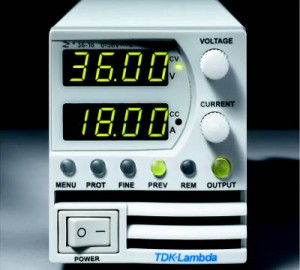 "Complementing the Z+200, Z+400 and Z+800 ranges, these 600W supplies offer the same features and carry a 5-year warranty," said the firm. The Z+600 range is also suited for ATE and OEM 2U rack mounted or integrated applications.
Models are available with outputs up to 100Vdc and 60A.
Units can operate in constant current or constant voltage modes, and accept a universal (85-265Vac) input.
Up to six identical units can be paralleled with active current sharing, and to increase the output voltage or to provide a bipolar output up to two units may be connected in series.
All models can be programmed via the front panel or remotely using USB, RS232/485 and analogue interfaces, which are built in as standard.
Optional LAN, GPIB (IEEE488) and isolated analogue programming interfaces are available.
CE marked for EMC and in accordance with the LV Directive and RoHS Directive, the Z+600 conforms to EN55022-B, FCC part-15-B and VCCI-B for conducted and radiated EMI. Safety approvals include UL/EN/IEC61010-1, and the Z+600 is designed to meet UL/EN60950-1.