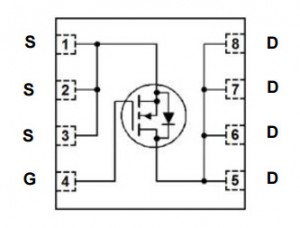 Called FDMS86181, it is a 'shielded gate' mofet.
"FDMS86181 is the first part in a new generation of mosfets and it delivers substantial improvements in efficiency, reduced voltage ringing and electromagnetic interference for power supplies, motor drives and other applications requiring a 100V mosfet," said the firm.
Recovery of the inherent reverese diode (Qrr) is 320nCmax at 20A and 300A/µs, and 1.36µCmax at 20A and 1,000A/µs.
"The exceptionally low Qrr of the FDMS86181 virtually eliminates the voltage overshoots that cause ringing, which allows for the reduction or elimination of snubbers in product designs and reduces EMI," claimed the firm.
Fairchild will demonstrate the 100V mosfet FDMS86181 at the APEC conference in Long Beach, California.