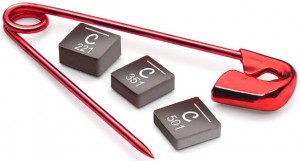 Called the XEL40xx series, the lowest dc resistance in the range is 2.5mΩ while the highest current is 28.5A, all in 4 x 4mm with heights down to 1.2 mm.
Soft saturation characteristics, said Coilcraft, allows them to withstand high current spikes.
Tin-silver over copper terminations and are RoHS compliant and halogen free.
Applications are expected in IoT and portable device applications, but the XEL4014 and XEL4020 models are qualified to AEC-Q200 Grade 1 standards (-40 to 125°C ambient), making them suitable for automotive use and other harsh-environments.
Maximum part temperature (ambient + temp rise) 165°C.
Failures in time (FIT) for 4030 parts, for example, is 38 per billion hours and mean time between failures (MTBF) over 26 million hours, calculated per Telcordia SR-332
As an example, part XEL4014-331ME is 330nH ±20%, 9.9mΩ typical, 12.0mΩ maximum, self-resonant frequency is typically 110MHz, 14.6A saturation, 6.5Arms for 20°C temperature rise and 9.0Arms for 40°C temperature rise.
RMS current testing testing was performed on 19mm wide by 3.6mm thick copper traces in still air. "Temperature rise is highly dependent on many factors including PCB land pattern, trace size, and proximity to other components. Therefore temperature rise should be verified in application conditions," said the firm.