CamSemi offers 7.5W primary side sensing controller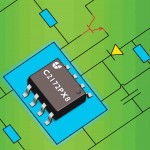 CamSemi has introduced a higher-rated power controller for  7.5W designs.
Based on the firm's primary side sensing (PSS) technology, the new devices extend the power options of the C2170 controllers launched in June. The first devices were are optimised for applications to 4W and 6.5W.
The new C2172PX8 controller uses a patented bipolar transistor (BJT) drive scheme, which has voltage regulation of +/- 2% and current regulation of +/- 3%.
According to the supplier, no-load power consumption is below 30mW.
"While the C2172PX8 extends the target applications to 7.5W, we continue to develop this superior approach to driving BJTs for yet higher power and efficiency and expect to introduce further products over the next few months," said David Baillie, CEO of CamSemi.
C2172PX8 is packaged in surface mount SOP8, samples are available.