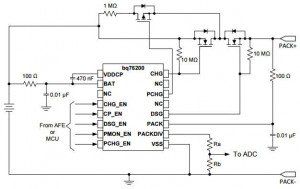 Bq76200 drives high-side n-channel charge and discharge FETs in batteries for drones, power tools and e-bikes.
"Compared to typical 50V low-side FET driver solutions, the 100V high-side FET driver provides greater protection against possible inductive transient events in motor-driven applications. "Bq76200 also helps maintain constant battery monitoring and enhanced system diagnostics – even when charging and discharging is disabled," said TI.
The chip is rated to work across 8 to 75V, which is 3-16 cells, and has an absolute maximum of 100V.
Typical operating and shut-down consumption is 40µA and 6µA respectively.
It has a charge-pump for the n-FETs, and can also drive an extra p-channel FET to pre-charge deeply depleted batteries.
As the main power switches are on the positive rail, the chip can communicate with a host regardless of whether those FETs are on or off, "this is not easily supported in a low-side switching architecture due to the lack of a shared ground reference", said TI.  "One key benefit of an ever-present communication link is the ability to read out critical pack parameters despite safety faults, thereby enabling the system to assess pack conditions before determining if normal operation may resume."
The package is a 5 x 4.4 x 1mm TSSOP, there is an evaluation module – the bq76200 EVM, and TI suggest coupling the controller to a member of the bq76940 battery-monitoring family.