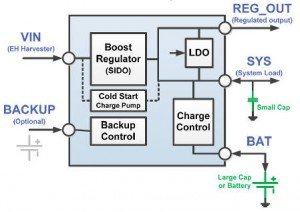 Called ADP5091 and ADP5092, they are based on the similar ADP5090, released over a year go.
"We have optimised what we had, improved the start-up circuit, and added an adjustable voltage regulator", company technical director Uwe Brockelmann told Electronics Weekly at Embedded World in Nuremberg.
The extra adjustable regulator is a 150mA LDO which can be programmed by an external resistor divide or, to pick one of eight set voltages, a single resistor.
Embedded World 2016: Get the full Electronics Weekly guide »
The on-chip boost converter can cold-start with 380mV on its input, and then run from 80mV to 3.3V.
It can harvest power sources from 16μW to 600mW range "with sub-μW operation losses", said the firm.
The power tracker, which Analog calls "MPPT", but which does not appear to be a complete 'maximum power point tracker', alters the dc-dc converter operating point to improve power extraction from the source.
A programmable minimum operation threshold shuts down the dc-dc converter when insufficient energy is available to be worth running it and, only on the ADP5091, this status is signalled through a pin for a host microcontroller. The same pin on the ADP5092 signals 'regulated output power good'.
Quiescent current is 450 (boost running) to 360nA (boost shut-down). These figures are higher than the original ADP5090, which didn't have an LDO and scored 320 to 260nA.
Other pins accommodate a rechargeable energy store – supercap or Li-ion – and an optional primary coin cell as back-up.
"Devices relying on energy harvesting in low energy conditions often have to slowly accumulate enough energy to turn on, resulting in long delays before the device can start sensing, processing, and transmitting. This can result in missed data collection, slow operation, and poor user experience," said ADI. "The ADP5091 and ADP5092 solve these problems with a multiple-power-path design which enables faster start-ups and smoother operation."
To protect the rechargeable energy storage, a programmable voltage monitoring terminates over-charge and over-discharge.
Operation of the harvesting chips is over -40 to +125°C junction temperature.
| | | | | |
| --- | --- | --- | --- | --- |
| Product | Samples | Production | Price | Package |
| ADP5091 | Now | April 2016 | $2.49 (1,000 off) | 24 lead LFCSP WQ |
| ADP5092 | Now | April 2016 | $2.49 (1,000 off) | 24 lead LFCSP WQ |
| ADP5091-1-EVALZ | Now | April 2016 | $49.00 | Evaluation board |
| ADP5091-2-EVALZ | Now | April 2016 | $49.00 | Evaluation board |
| ADP5092-1-EVALZ | Now | April 2016 | $49.00 | Evaluation board |