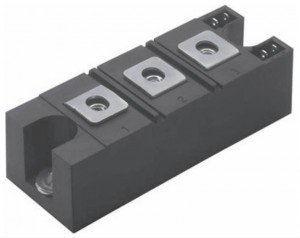 The devices can work up to 1kHz, 600V and 100-400A.
There are three half-bridges and on single IGBT, and losses are down on its previous offerings through using 'Trench PT' construction: collector-emitter voltages are 1.1-1.3V and turn-off switching energy is 11-45mJ – said to be 50% lower than the previous-generation.
The half-bridges have HEXFRED or FRED Pt branded anti-parallel diodes and are available in 17mm high packages.
The single switch device comes in SOT-227, with ≤5nH typical inductance, and UL approval to file E78996.
| | | | | |
| --- | --- | --- | --- | --- |
| Part | VS-GP100TS60SFPbF | VS-GP250SA60S | VS-GP300TD60S | VS-GP400TD60S |
| IC | 100A | 250A | 300A | 400A |
| VCE(on) | 1.16V | 1.10V | 1.30V | 1.30V |
| Package | INT-A-PACK | SOT-227 | DIAP, low profile | DIAP, low profile |
| Eoff | 15.3mJ | 11mJ | 33mJ | 45mJ |
| Circuit | Half bridge | Single switch | Half bridge | Half bridge |
| IGBT | Trench PT | Trench PT | Trench PT | Trench PT |
| Diode | FRED Pt | None | HEXFRED | HEXFRED |