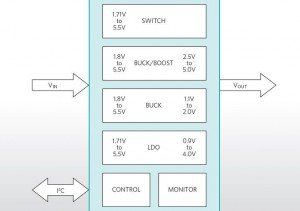 "MAX14720 is ideal for non-rechargeable battery – coin cell or dual alkaline – applications where size and energy efficiency are critical," said the firm. "In addition, an electronic battery seal extends shelf life by effectively disconnecting the battery prior to initial power-up."
This last part is the 120nA 'battery seal' mode, which looks like it can be controlled by a push-button monitor circuit. Maxim is being a little vague on detail here, as it is elsewhere with this chip – the data sheet is only obtainable under a non-disclosure agreement.
It looks like seal-mode uses the on-board power switch (250mΩmax at 2.7V, 500mΩ at 1.8V), which can be used for general-purpose switching and "is also used to isolate the battery-impedance measurements", said the firm.
The all-important function that enables 1.8V operation is a 250mW buck-boost regulator which will operate from 1.8-5.5V and supply 2.5-5V. Quiescent current is 1.1μA and there is a burst mode for increased efficiency at light loads.
Added to this is a 200mA buck regulator (1.8-5.5Vin, 1.0-2.0Vout, 0.9μA quiescent), which also has burst mode, and a linear regulator (1.71-5.5Vin, 0.9-4.0Vout, 0.9μA quiescent) programmably delivering up to 100mA which can be configured as a second load switch to ditch the quiescent current of its loads.
Control is over an I2C bus, allowing it to be configured either for use in applications that require a true off-state or for always-on applications.
Available are a delayed reset signal, voltage sequencing, and customised button timing for on/off control and recovery hard reset.
A multiplexer is included for monitoring the power inputs and outputs of each function.
Operation is over -40 to 85C, and it comes in a 25bump, 2.26 x 2.14mm wafer-level package
Applications are foreseen fitness and medical wearables, and medical portables.
Read more