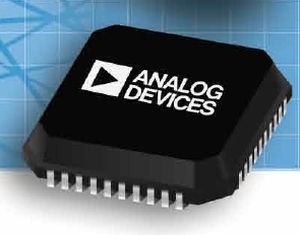 Target applications for the ADP176x and ADP715x LDOs include wireless base stations, wired communications, industrial instrumentation, high-end audio equipment, and medical devices.
The LDOs enable cleaner power rails, faster transient response, and higher power supply rejection ratio (PSRR) in noise-sensitive precision analog and RF applications, particularly when higher data rates are involved, according to Analog Devices.
Higher data rates in many applications are driving the need for cleaner power rails to run sensitive semiconductor devices. The issues intensify as speeds increase and geometries drop from 65nm to 28nm and beyond.
The ADP176x and ADP715x LDOs support a growing set of noise-sensitive applications including RF transceivers, voltage-controlled oscillators, phase-locked-loop synthesisers, clocks, and high-speed A/D and D/A converters. The new LDOs also reduce PCB size and cost by eliminating the need for additional passive components including extra external filters and bypass capacitors.
The ADP176x series delivers up to 3A of output current and operates across an output voltage range of 0.5V to 1.5V. This combination of lower voltage output operation addresses the high-current core rail requirements in many emerging applications.
The ADP715x series supports an output range of 1.2V to 3.3V and delivers industry leading noise performance of 1.6 µVrms from 10 Hz to 100 kHz while expanding the LDO output current range for this ultra-low sub-2 µVrms (100 Hz to 100 kHz) from noise up to 2A maximum.