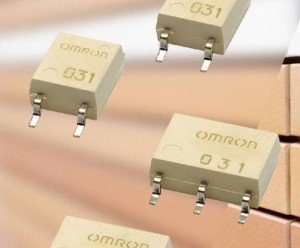 Mosfet relays use light to isolate the primary side, which is an LED, from a pair of mosfets at the output. They are a conveniend way to connect microcontrollers to unruly loads.
With their sources tied together, the mosfets can be connected in parallel to control dc, or in inverse series to control ac circuits.
The mosfet gates are ties to a tiny string of solar cells, which is what the LED interacts with.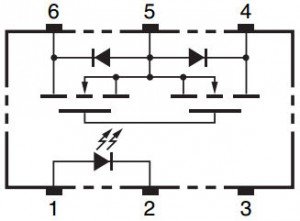 G3VM-61HR1 comes in a 6pin SOP (4.4 x 6.3mm plus legs) and can switch 3.3Aac at 60V with an on-resistance of 30mΩ. In 6.6Adc configuration resistance drops to 8mΩ, according to Omron, which added: "This is a 43% greater load than the previous G3VM-61HR."
Required diode current is 10mA, where Vf is typically 1.33V. 5-25mA can be used.
Between inputs and outputs there is typically 800fF (1MHz) and 100TΩ (at 500Vdc,according to the data sheet), or 1GΩmin.
Ton/Toff is 5ms/1ms maximum (0.6/0.2ms typical) at LED=5mA.
A second part, G3VM-61GR2, is faster at Ton/Toff =3ms/0.5ms max.
This is a 4pin SOP device (with no central source connection) intended to switch digital and analogue signals from microamps to 1.7Aac, "70% more than the previous G3VM-61GR1″, said Omron. On-resistance is 80mΩ (130mΩ max).
Applications are expected replacing electromechanical relays in smart meters, security, medical and industry.
"A growing number of applications would prefer to adopt solid state mosfet relays," said Omron marketing manager Andries de Bruin. "Reasons include resistance to magnetic tampering and low susceptibility to EMC interference in industrial environments."