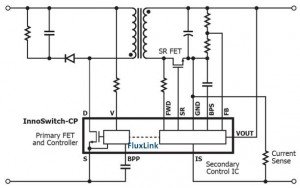 Called Innoswitch-CP, the converters are CV/CC fly-back switching ICs, that unsusually have a constant power output limit which, "when paired with an adaptive-voltage protocol such as Qualcomm Quick Charge 3.0 or USB-PD, permits smart mobile device makers to optimise charging time across a range of products", said Power Integrations.
In these applications, the smart load requests to be supplied at a certain voltage (via a separate control chip, see below), and the Innoswitch will provide this voltage until the output power (rather than the more-usual current) hits a threshold.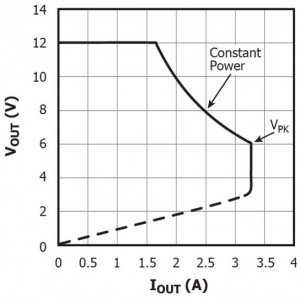 Why go to all this trouble?
Saving money over constant-current designs, is the answer.
"The cost of a charger is proportional to its power rating, but the voltage and current required for optimal fast charging of the battery is dependent on factors such as battery size, chemistry charge level and the thermal environment," said Power Integrations marketing director Shyam Dujari. "By providing a constant power output, Innoswitch-CP allows battery-operated devices to draw up to the maximum power of the charger at any selected output voltage, optimising charge time and cost."
The constant power characteristic is set internally, while the output voltage is set by two resistors. The Innoswitch series of chips are secondary-side sensed – with an internal magnetic coupler (made in the leadframe, branded FluxLink) providing isolated feedback to the mains-side switcher.
In a load-controlled application, like Quick Charge 3.0, a separate USB interface chip (Power Integration's own CHY103D, for example) alter the output voltage following USB commands from the phone or tablet under charge, by biasing the feedback potentiometer.
The basic technology, with its secondary-side active rectification, is 90% efficient – while no-load consumption is under 10mW even at 230Vac.
Protection includes output over-voltage, output over-current (with 3V auto restart), input over-voltage protection (brown-in/brown-out thresholds) and thermal (hysteretic).
Compliance includes 100% production HIPOT compliance equivalent to 6 kVdc/1s, isolation to >3,500Vac, UL1577, (EN60950), EN61000-4-8 (100A/m) and EN61000-4-9 (1,000A/m).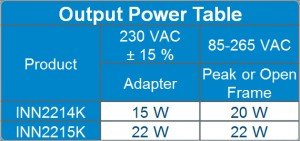 Two devices are available, both for universal voltage chargers and adapters:
INN2214K IC delivers 15W
INN2215K delivers up to 22W for similar applications.