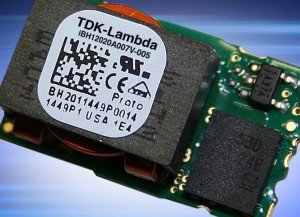 Called the iBH series, they measure 20.3 x 11.4 x 9.9mm and weighing 6g, while delivering 66% more current than its similarly sized iBF series.
Efficiencies is up to 96%, and the full 16A at 5V (80W) can be achieved by natural convection at 55ºC, or up to 75ºC with forced air, and up to 100ºC ambient with power derating.
Standard features include an output voltage trim pin, remote sense, remote on-off, power good output (outside +/-12% of set point), and protection against: input under-voltage, over-current and over-temperature.
A single resistor (between 'trim' pin and ground) sets the output voltage. There are two models: one with active high turn-on and one with active low turn-on. Careful reading of the iBH data sheet (see p14) is needed to determine which part number has which polarity of on/off signal. Output sequencing is an option offered in some markets.
"iBH converters have excellent transient response characteristics, without the need for externally mounted loop tuning circuitry," claimed the firm.
Certification includes IEC/EN 60950-1 and UL/CSA 60950-1, with CE marking for the Low Voltage and RoHS2 Directives. Te footprint is DOSA compatible.
Applications are expected in datacoms, telecoms, industrial, broadcast, test and measurement.