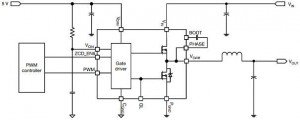 Intended for notebook PCs, they accept PWM inputs and combine switching mosfets, gate drivers and a bootstrap Schottky diode. On-board high and low-side mosfets are GenIV TrenchFETs, the driver IC is supports 5V tri-state PWM logic, and 45 % footprint saving is claimed over discrete solutions.
"The devices' high power density is optimised for computing platforms using Intel's Skylake platform," said Vishay. "They are also suitable for industrial PC and high-current multi-phase modules used in networking and industrial applications."
For the SiC530 version, for example, recommended power-side supply (Vin) is 4.5-20V while the logic supply needs to be 4.5-5.5V. 5V 5μA shut-down is included for Intel's PS4 mode requirement in its IMVP8 spec.
Parasitics are low enough for 2MHz operation, claims the firm.
To increase light-load efficiency the driver IC incorporates diode emulation mode circuity and zero-current detect, enabled by a pin. With diode emulation active, zero current crossing of the output inductor is detected and the low-side mosfet is turned off (asynchronous to the PWM signal) – ensuring discontinuous conduction mode.
Adaptive dead time control is included, as is undervoltage lock-out.
Device Specification Table:
Package
Part
Continuous current 
Max. current 
Input voltage 
PS4
PowerPAK
MLP4535-22L
(4.5×3.5mm)
SiC530CD
30A
40A
4.5 to 18
Yes
SiC531CD
25
35
4.5 to 24
No
SiC532CD
25
35
4.5 to 24
Yes
PowerPAK
MLP55-31L
(5x5mm)
SiC631CD
40
50
4.5 to 24
Yes
SiC632CD
40
50
4.5 to 24
No