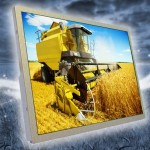 Therefore, a module specified to allow for condensation will offer a significantly increased lifetime.
Semikron has designed a power module for extreme climatic conditions and allows for condensation during operation. It meets the specific requirements for wind turbines in the 1-6MW power range.
The internal construction of the SKiiPX is based on Semikron's SKiN Technology, which provides a doubling of the power density within the module.
Consequently, the total volume of the inverter can be decreased by up to 50% and inverter costs can be reduced by up to 15%. SKiiPX allows for the first time the integration of a 3MW wind inverter into a single cabinet, due to a reduced number of components and interfaces.
There is integrated liquid cooling for a constant operating temperature of the coolant of up to 70°C. This hermetically sealed system requires fewer gaskets compared to conventional systems, ensuring higher reliability.