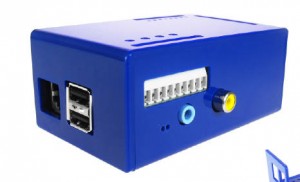 Camden Boss is making them in clear, white, carbon fibre pattern, lilac red and blue, from 3mm high impact polystyrene (actually, the pretend carbon fibre one is in ABS).
Light pipes make the light from the Pi Face LEDs visible form the outside.
Assembly is screw-free, and there are rubber feet.
A bunch of distributors are stocking them, including CPC whose data sheet I cribbed the photo from.
Pi Face is the work of Andrew Bobinson of the University of Manchester. Here is the University's Pi Face page.