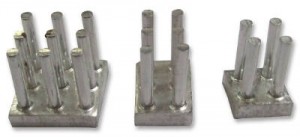 That said, I am not sure I have ever seen a Raspberry Pi with fans…
The other stated advantage is that they will fit into most cases.
How big they are, I am slightly unsure.
The press release says 13x13x10mm (HxWxD), weight 5g.
It also says thermal resistance is 25°C/W, but it doesn't say if this is with or without the supplied thermal adhesive tape.
In the data sheet, the sizes are: 6.5×10.2, 10×10, and 7x7mm, all 10mm tall. No thermal resistance is given.
Anyone with a will and access to Flotherm could work out the thermal resistances should they want to – the base is 2mm thick and the pins are 1.5mm in diameter.
They are aluminium and described as 'pressfin', so I suspect they are 1.5mm wire forced into holes in a 2mm sheet.
Price is £4.89+vat