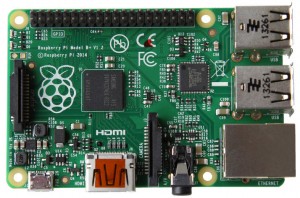 The new version, called B+, costs £20 and uses less power.
"We've been blown away by the projects that have been made possible through the original B boards and, with its new features, the B+ has massive potential to push the boundaries and drive further innovation," says co-creator Eben Upton.
What's different in the Model B+?
GPIO header extended to 40 pins. First 26 pins exactly the same as 26 pin header on original.
Two extra USB ports bringing total to four.
SD Card socket is now a Micro SD Card socket.
On-board regulators are now switchers, saving from 0.5 to 1W.
Lower power consumption. By replacing linear regulators with switching ones we've reduced power consumption by between 0.5W and 1W.More USB. We now have 4 USB 2.0 ports, compared to 2 on the Model B, and .
Composite video now emerges from a fourth pin on the 3.5mm audio jack.
The connectors have bene moved to put them along two sides of the Pi, not all four.
There are now four mounting holes, and the board corners have been rounded.
What's the same with the Model B+?
The SoC remains the Broadcom BCM2835 (ARM11 v6 archtecture).
RAM is 512Mbyte
Model B software runs on the B+
element 14 and RS are suppliers
Camera (CSI) and display (DSI) connectors stay
The power supply clean-up extends to "better hotplug and overcurrent behaviour" on the USB, said Upton, and "the audio circuit incorporates a dedicated low-noise power supply".
Extensions to the IO include ID-SC and ID-SD which form an I2C bus for external EEPROM so boards plugged into the 40pin header can identify themselves to allow the IO to be configured by the ARM processor.