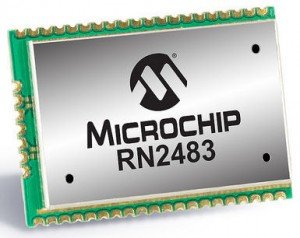 LoRa is one of the wireless protocols competing for IoT applications like smart metering. It has security and offers metropolitan area coverage for low data rate signals – see Munich coverage map.
"This Certification Program will provide assurance to end-customers that their application-specific end devices will operate on any LoRaWAN network, which is a crucial requirement for the global deployment of the IoT using LPWANs," said Steve Caldwell, v-p for wireless at Microchip, and chairman of the LoRa Alliance Strategic Committee.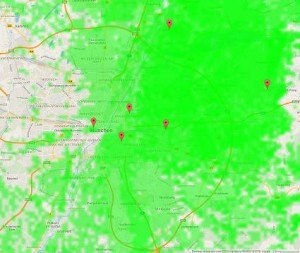 Typically a star-of-stars network, the LoRa physical layer and protocol aims to provide wireless machine-to-machine communication from millions of end-nodes to LoRaWAN gateways over up to 10 miles range with a battery life of up to 10 years at the node. Gateways are transparent to data, linking end nodes to a central server.
Wireless links are spread-spectrum and different data rates 300bit/s to 50kbit/s are available to trade message duration against range and battery life. The network server manages data rate and RF output for each separate end device.
Encryption is multi-layered: A unique network key (EUI64) for the network level, unique application key (EUI64) for application end to end security, and a device specific key (EUI128, according to the LoRa Alliance.
Microchip's 18 x 27 x 3mm module connects to a host processor through a UART serial bus, which also handles ACSII commands for configuration and control. It has both 433 and 868MHz capability, through separate antennas. 14 GPIOs are provided for sensors, actuators and indicators.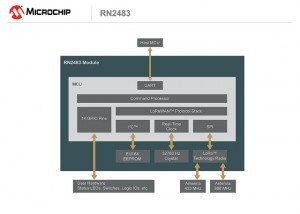 "RN2483 comes with the LoRaWAN protocol stack, so it can easily connect with LoRa Alliance infrastructure, including privately managed local area networks and telecom-operated public networks," said Microchip.
Supply range is 2.1-3.6V and power consumption at 3V is: 2.8mA on idle, 14mA receiving, and 1.8µA in deep sleep.