IQ modulator addresses LTE MIMO linearity issue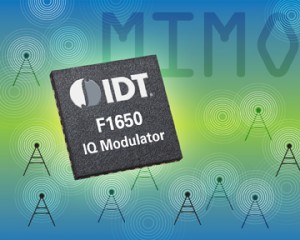 Integrated Device Technology's latest IQ modulator is designed to interface directly to dual digital-to-analogue converters (DACs). This results in a power budget saving and a reduction in IM3 distortion.
Modulator linearity, which impacts a system's adjacent channel leakage ratio (ACLR), has been a design issue in LTE multiple-input multiple-output (MIMO) wireless communications systems, says IDT.
According to Dave Shepard, general manager of the timing and RF division at IDT, this is "one of the biggest challenges engineers face today, enabling engineers to hit increasingly tight power and performance budgets."
The modulator, which has 3dB of power gain, interfaces directly with popular JESD204B and DDR DACs.
The IDTF1650 IQ modulator is designed to achieve a very high second order intercept point (OIP2) [60dBm] and third order intercept point (OIP3) [35dBm] with a power consumption of 500mW.
"A MIMO implementation with the IDTF1650 will result in up to 4W of power consumption savings," claims IDT.
The IDTF1650 is available in a 4x4mm 24-ld VFQFPN package.

Related Tech News
MediaTek expects to see the first smartphone with a mobile processor it has designed based…more »

The best of Mobile World Congress, highlighting latest trends in…more »

Swedish power company myFC will introduce a mobile phone charger which…more »

Infineon has raised €800 million in the bond market to…more »
Share your knowledge - Leave a comment