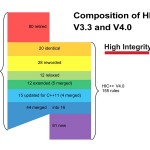 HIC++ was first published 10 years ago and more than 24,000 copies having been downloaded.
PRQA Free Whitepaper – Build a compelling business case for software static analysis »
Version 4 of HIC++ consolidates or retires a number of original rules and adds many more related to C++11 features, demonstrating its ongoing relevance to modern C++ coding best practice.
Enhancements include:
• Overall consolidation of rules to a more manageable size – down from 202 to 155, which are categorised using relevant clauses and sub-clauses from the text of the language standard (ISO C++ 2011) for easy navigation and cross reference,
• 61 new rules added, mostly related to C++11 updates, (lambdas, rvalue references, concurrency enhancements), but also covering other best practices,
• 80 rules have been retired and 44 have been merged down to 16,
• All rules receive improved explanations including compliant and non-compliant code examples.
The new HIC++ coding standard is now available at www.codingstandard.com, in addition to a whitepaper by the authors, summarizing the rationale behind V4.0, the changes from the previous version and how HIC++ fits with other key C++ coding standards.