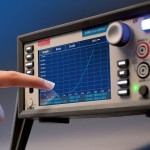 The Model 2450 SourceMeter instrument has icon-based control menus which the company says will simplify measurement making for a wider range of users, including non-engineers, such as physicists and materials scientists.
There is a context-sensitive help function, "Quickset" modes that help configure the instrument for specific measurements and on-screen data graphing capabilities.
The instrument combines the functionality of a power supply, true current source, 6-1/2-digit multimeter, electronic load, and trigger controller in one half-rack instrument.
Measurement ranges have been extended especially to improve low current performance. The instrument has low current ranges of 100nA and 10nA and voltage range of 20mV.
Back-panel triax cable connections are designed to eliminate the need for expensive cable adaptors, which can degrade low-level measurement performance.
Quick measurements can be made with a KickStart start-up software function.
For integrating the Model 2450 into automated test systems, an onboard Test Script Processor embeds complete test programs into non-volatile memory within the instrument itself to avoid GPIB traffic problems common to systems dependent on an external PC controller.
Up to 32 Model 2450 instruments can be linked for multi-point or multi-channel parallel test, under the direction of a master unit's TSP controller.
In addition to its native 2450 SCPI operating mode, the Model 2450 offers a 2400 SCPI operating mode for backward compatibility with existing 2400 SCPI programs.
Rear panel triax connectors, multiple instrument communication interfaces (GPIB, USB 2.0, and LXI/Ethernet), a D sub 9-pin digital I/O port (for internal/external trigger signals and handler control), instrument interlock control, and TSP-Link jacks simplify configuring multi-instrument test setups.