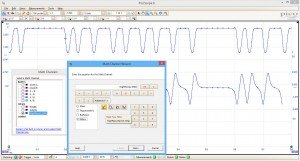 In Release 6.11.7 of Picoscope:
Waveform maths now has user-configurable high-pass, low-pass, band-bass and band-stop filters which can "be used to model missing circuit elements on live waveforms, and to do 'what-if" analysis using different design parameters", said the firm.
Frequency and duty cycle versus time plotting is now possible, allowing cycle-by-cycle measurement of clock jitter, clock wander, modulation depth and FM characteristics.
Serial buses that can be decoded now include: SENT, 10-BASE-T Ethernet, 100BASE-T Ethernet, DMX512 (lighting systems) and DCC (model railways). "Support for older standards such as I2C, SPI, CAN and UART / RS-232 has been improved," said Pico Tech.
For users with touch screens, pinch and zoom support is available for panning and positioning captured waveforms.
PicoScope works with Pico Tech's range of PC oscilloscopes and can be downloaded free.
The firm's range includes a sampling oscilloscope with 20GHz bandwidth and real-time oscilloscopes with hardware resolution up to 16 bits.