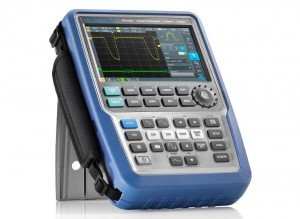 Called Scope Rider, the chunky (201 x 293 x 74mm, 2.4kg) unit has a 7inch 800 x 480 colour capacitive touch screen.
"The handheld oscilloscope is the first to be equipped with a large‑format capacitive touch screen, allowing it to be operated as intuitively as a tablet PC. It also features large buttons for use with gloves and a multifunction wheel for parameter adjustment. All measurement information is displayed in an application‑oriented manner," said the firm.
Acquisition rate through a 10bit 5Gsample/s ADC developed by Rohde & Schwarz  is 50,000 waveforms per second. It has digital triggering, 33 automatic measurement functions, mask test and XY diagram mode.
It is equipped for safe rugged use, with an IP51 (IEC60529) housing against dust and dripping water, isolated input and communications interfaces – IEC 61010-1 for CAT IV up to 600V and for CAT III up to 1kV.
500MHz is the analogue bandwidth of the top-end version. The scope is available in four and two channel versions (only the two channel versions get the multimeter), with 60, 100, 200, 350 or 500MHz bandwidth. There will be trigger and decoding options for I2C, SPI, UART, RS‑232, RS‑422 and RS-485.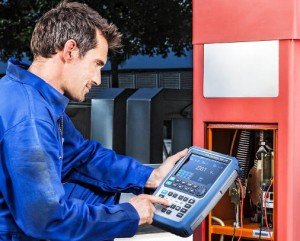 Data interfaces include a microSD card, USB, Ethernet and wireless LAN – the last of which can be configured as a hotspot to allow remote controlled from a phone, tablet PC or laptop. "There is no need for additional software or apps, a simple web browser on the mobile device is all that is required," said the firm.
More than four hours of battery run-time is claimed.
Use by engineers and technicians in installation, manufacturing, maintenance and emergency applications are foreseen – for example looking at shipboard electrical drives or carrying out vehicle test drive analyses, suggested the firm.
Model numbers are of the form RTH10xx, and a oddly named custom website has been set-up: www.2-minutes.com. Rather than labour through it, clock the 'bottom' arrow which will take you to 'download'. Click than, and then 'brochure' for a data sheet and 'folder' to see which model has which features.