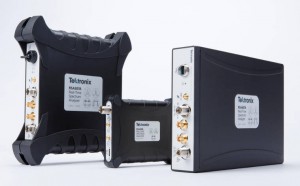 Adding to the existing 6.2GHz RSA306 (centre in photo) there are four new models across the RSA500 (left) and RSA600 (right) series of analysers, covering 9kHz to 7.5GHz with 40MHz acquisition bandwidth, -161dBm/Hz displayed average noise and up to +30dBm input.
Through a USB 3.0 connection, the instruments are operated from a desktop PC, laptop or tablet using an updated version of Tek's SignalVu-PC software suite, which provides 17 measurements and real-time signal processing.
"With our family of USB spectrum analysers, we are giving customers a spectrum analysis solution at a fraction of the price of traditional instruments," said Tektronix general manager Jim McGillivary.
They are not powered over the USB cable.
For field use with a tablet, RSA500 series instruments are battery-powered and include the 3GHz RSA503A and 7.5GHz RSA507A. Intended applications are spectrum management, interference hunting and network troubleshooting. They are qualified to MIL-STD 28800 Class 2 for shock and vibrations, and IP52 for water ingress.
There is a GPS receiver with up to ±0.025ppm frequency accuracy , and a tracking generator option with internal bridge for basic device, cable and antenna testing.
For lab use plugged into the mains, RSA600 series instruments include 3GHz RSA603A and 7.5GHz RSA607A, which match their RSA500 series cousins in performance. Applications testing Bluetooth LE, Bluetooth EDR, and WLAN standards testing up to 802.11ac are foreseen – for example, testing IoT modules, said the firm.
Signal Vu-PC
The firm's SignalVu-PC software has a number of new options, including expanded support for signal classification, channel navigation, and mapping. "Floating licenses are also now available as well as node locked licenses to give users more flexibility to deploy the software and spectrum analysers," said Tek.
As well as access through SignalVu-PC, there is an API [application programming interface] that provides a set of commands and measurements.