Low cost mixed-signal scope gets 500MHz bandwidth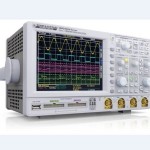 Hameg Instruments is offering a mixed-signal oscilloscope range with up to 500MHz bandwidth.
Launched earlier this year, the HMO3000 series includes six model variants in a bandwidth of 300MHz to 500MHz with 2 or 4 channels.
As well as the analogue channels there are 16 digital channels.
The scopes have memory depth of 8Mbyte which is adjustable both manually and automatically.
Another new feature is an upgrade possibility which allows all models of the HMO3000 series with 300MHz or 400MHz to be expanded to a bandwidth of 500MHz:
As an introductory offer all oscilloscopes of the HMO3000 series will be shipped with the logic probe HO3508 included at no extra cost. This offer is valid until the 31st of October 2013.