Tektronix 33GHz scope targets USB 3.0 debug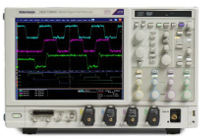 Tektronix has added oscilloscopes with 23GHz, 25GHz, and 33GHz bandwidths and new debug capabilities to MSO/DPO70000DX range of instruments.
To support these high frequency scopes the company has also introduced a low noise probe with 33GHz bandwidth and high sensitivity for low-voltage, high-speed serial and RF signals.
The latest scopes provide an 80ps timing resolution on 16 digital channels supporting measurement of serial buses like USB, I2C, and SPI in real-time.
The P7600 series TriMode probe can be used for differential, single ended and common mode measurements. The probes have a sensitivity of 3.48mV/div.
Both the MSO and DPO models in the 70000DX range from Tektronix feature wider dynamic range of 600mV/div (6V full scale) at maximum voltage setting, five times more than the 70000D series.
Record length is now four times as long at 1Gsamples/channel on two channels. Processor speed has also been improved which enables faster decode on longer records. In addition, the instruments support a more than 300,000 wfms/s acquisition rate.
Image: MSO/DPO70000 Oscilloscope