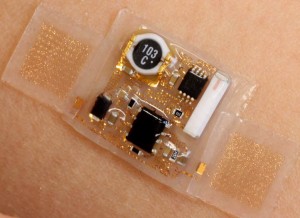 The announcement follows a flexible patch with all-flexible components earlier this week.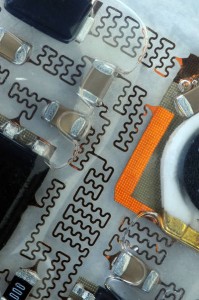 The patches stick to the skin like a temporary tattoo and incorporate a unique fluid-filled construction with serpentined-serpentine conductive tracks to allow the patch to bend and flex without being constrained by its rigid electronics components – The serpentined-serpentine approach was seen in a super-stretchable battery last year from a team of US, Korean and Chinese researchers.
Update: click for more technical details.
"We designed this device to monitor human health 24/7, but without interfering with a person's daily activity," said Professor Yonggang Huang of Northwestern University. "It is as soft as human skin and can move with your body, but at the same time it has many different monitoring functions. What is very important about this device is it is wirelessly powered and can send high-quality data about the human body to a computer, in real time."
The second half of the team is lead Professor John Rogers of University of Illinois at Urbana-Champaign.
Rogers' group previously demonstrated epidermal electronics made of very tiny, ultrathin, specially designed and printed components. These worked, but using standard components is far cheaper.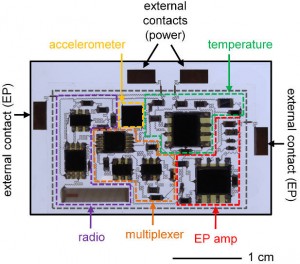 "Our original epidermal devices exploited specialised device geometries: super-thin, structured in certain ways," Rogers said. "But chip-scale devices, batteries, capacitors and other components must be re-formulated for these platforms. There's a lot of value in complementing this specialised strategy with our new concepts in microfluidics and origami interconnects to enable compatibility with commercial off-the-shelf parts for accelerated development, reduced costs and expanded options in device types."
To make a structure with ridged components flexible, the patch is constructed of a thin elastic envelope filled with fluid. The ICs are suspended on raised support points, bonding them to the underlying patch but allowing the patch to stretch and move.
In a side-by-side comparison with traditional EKG and EEG monitors, said the University of Illinois, the new wireless patch performed equally to conventional sensors and were more comfortable – which could be important for long-term monitoring, stress tests, or sleep studies; or with fragile skin such as premature babies.
The US National Security Science and Engineering Faculty Fellowship of Energy, the Korean Foundation for International Cooperation of Science and Technology, and the US Department of Energy supported this work.
The design is published in the April 4 issue of Science.
There is a video of the device being flexed.
The 2011 Illinois/Northwestern flexible epidermal sensor incorporated silicon mosfets, PiN diodes, InGaN LEDs, platinum resistance thermal sensors and loop aerials. Of particular interest was a novel form of flexible thin sinuous silicon mosfet.