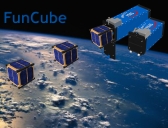 The satellite will have a 145MHz telemetry beacon that will provide a strong signal for pupils to receive.
"It is planned to develop a simple receiver board that can be connected to the USB port of a laptop to display telemetry in an interesting way", said AMSAT. "The satellite will contain a materials science experiment, from which the school students can receive telemetry data which they can compare to the results they obtained from similar reference experiments in the classroom."
FUNcube will measure 10x10x10cm and weigh under 1kg. "It is the smallest ever satellite to carry such a sophisticated communications payload," claimed AMSAT.
The intention is to put the satellite into a sun synchronous low earth orbit – about 600-700km up – "using one of the many launch opportunities that exist for Cubesat missions", claimed AMSAT.
In such an orbit, the satellite passes over Europe approximately 3 times in the morning and 3 in the evening every day.
FUNcube will support educational science, technology, engineering and maths initiatives, and link in with GB4FUN, a van fitted out with educational demonstrations of comunication technology that visits schools.
AMSAT-UK has 350 individual members and is one 20 or so such groups worldwide.
Its teams have provided hardware for more than 10 satellites over four decades including SSETI Express in 2005.
"We are presently involved with the development of hardware and software for a number of satellite projects including the European Student Earth Orbiter (ESEO), P3E, SUITSAT2, the Columbus module on the ISS and also the GENSO Ground station network," said AMSAT.
FUNcube has initial funding from the charity Radio Communications Foundation (RCF) and is expected be developed in collaboration with Delft University of Technology spin-out Innovative Solutions in Space.
RCF was set up in 2003 to fund efforts to "bring the wonders of radio into the classrooms, universities and any other public place where hands on demonstration can influence understanding".