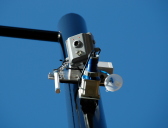 The sensor is part of a project called Transport Information Monitoring Environment (TIME) that is looking at ways to gather traffic information, then process it into formats that are useful to traffic managers and road planners.
At the moment, inductive loops are built into the road to measure traffic flow, but the University's low-resolution infra-red video camera is easier and cheaper to install.
"The sensor was originally developed to count people in supermarket queues, and it can also be used to do vehicles and their speed," computer scientist Dr David Evans told Electronics Weekly. "It is quite happy in the dark and in the snow, and there is no privacy issue because the resolution is so low that it can't read number plates."
A re-programmed commercial Wi-Fi router has been installed inside the lamppost to communicate with the Cambridge's Computer Lab.
"It is a small Linux machine that returns data from the sensor and makes it available to an authenticated Wi-Fi connection," said Evans. "It is a line-of-sight link, but it could quite easily be an ad-hoc network."
View Electronics Weekly's UK Electronics Research Map
At the moment the sensor cannot tell the difference between a cyclist, a car and a bus, but the Lab is working on a classification system, and may add a microphone to improve differentiation.
Evans is also working on a library of data converting algorithms for different sensors, ways to ease access real-time and archived data, and software to isolate end-user applications from the sensors. "So, if an inductive loop is replaced with an infra-red sensor, the application does not need to care," he said.
The University of Cambridge is also participating in the real-time monitoring of pollutants in cities.