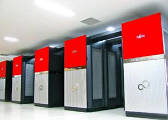 The machine is a Fujitsu PrimeHPC FX10 supercomputer, based on an enhanced version of the technology within Fujitsu's K computer – the world's most powerful.
"Oakleaf-FX is one of the few petaflops-class systems in the world and achieves high energy efficiency: as low as 1.4MW for overall system power consumption," claimed Fujitsu.
It has 4,800 nodes in 50 racks, delivering a theoretical peak performance of 1.13Pflops. Memory capacity is 150Tbyte, and it has adopted K computer's highly effective 'Tofu' 6D mesh/torus interconnect that addresses that habitual supercomputer issue: communication bottlenecks.
Peripheral systems include: 74 Primergy x86 servers, 234 Eternus storage systems, and a middleware package for peta-scale computers called 'Technical Computing Suite', which includes a distributed file system called FEFS.
Applications planned are within earth science, astrophysics, seismology, weather modelling, materials science, energy, biology, hydrodynamics, and solid-state physics.
"Oakleaf-FX will be operated so that priority is given to larger-scale jobs," said Fujitsu. "Furthermore, a project called 'Large-Scale HPC Challenge' is also starting. Members of a group whose proposal has been accepted can occupy all 1.13Pflops for 24 hours. One proposal is selected per month."